FRP (fiber-reinforced plastic)
FRP (fiber-reinforced plastic) was invented more than 50 years ago as a new material substitutable for heavy metals, and has been used in many fields such as with airplanes, vessels, automobiles, bathtubs and water tanks. Our company succeeded in developing this material for the purpose of waterproofing 25 years ago, and since then we have developed technology in various waterproof construction for buildings based on accumulated technology and experience in the use of plastic resins.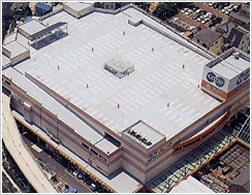 The characteristics of our company's FRP waterproofing are assurance of heavy duty, excellent design, lightness in weight, construction in a short period, and in particular low cost. A typical use is the waterproofing of a rooftop parking lot. It has been deemed that the use of conventional waterproofing materials is difficult because of their lack of durability. Our company has succeeded in developing a complex waterproofing system, which is now adopted as the waterproofing for rooftop parking lots by many large-sized retailer buildings. Other successful examples include the waterproofing at balcony of general houses constructed throughout the country by Sumitomo Forestry Co., Ltd. and Mitsui Housing Co., Ltd., swimming pools, water tanks at zoos, and water tanks of water purification plants where water quality is strictly controlled.
We have recently developed a rooftop gardening and waterproofing system, which is effective for easing heat-island phenomenon, reducing CO2 and saving energy. This system is now widely used by many governmental bodies and in the private sector throughout the country. In addition to the waterproofing for buildings, we are also playing the leading role as a top-class maker of FRP waterproofing materials, in the field of anti-corrosion system for factory buildings and water-supply and drainage systems.